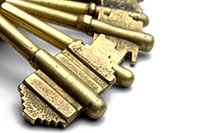 Home – a place to pamper your senses and to spend some great time with your loved ones should also be cared and protected with optimum safekeeping solutions. For kids & elderly at home, their safety is the major concern for people who leave them behind while they go out every day to work or make visits. However, they certainly wish to keep them safe with sturdy locking mechanism and break-proof lockset for doors, windows and other entry or exit gates at their home.
Secure Entry & Exit Points:
That's the area of highest importance and needs to be secured with the toughest locks and bolts. Give more attention to the doors & windows on the front and back of the house, as they are more vulnerable to break-in by robbers. Use of durable material for doors and windows is very important and that too with strongest hinges and deadbolt locks. Windows that are made up of glass or fiber should have iron frames or steel bars installed outside the window. These days, a variety of locksets to lock window panes is readily available.
Secure Shelves & Safes:
Using good locks for the doors and windows of the house is just not enough to protect or guarantee the safekeeping of your hard-earned belongings and important things that are kept inside the cabinets or drawers. To keep your valuables and important files & documents safe inside the cabinets, install secure locks with an advanced locking mechanism such as fingerprint, voice recognition, numeric password, etc. Using a safe is also a good option for those who live with other people in the same apartment or house.